Solving Pavement Problems with Asphalt Milling in Peoria IL
After a time, asphalt and pavement can become worn-down, torn-up, and need significant repair or replacement. However, just because the top layer of asphalt is cracked or crumbling doesn't mean the base needs to be fixed or replaced. In cases where you don't need a complete overhaul of your roads, lots or driveways, asphalt milling might be the best alternative. And if considering asphalt milling in Peoria IL, look no further than Hoerr's Blacktop & Sealcoating.
Why Asphalt Milling is Right for Your Pavement Project
Does your lot have large areas of cracking and crumbling? Are there uneven spots on your road? Have you repaved one too many times over the top of your driveway? Asphalt milling can provide a fix for all these issues and more! Moreover, asphalt milling offers significant benefits over repaving, replacement, and repair, such as:
Affordability : Rather than tearing up the entirety of a lot, milling can target the asphalt areas most in need of care. For example, asphalt milling will grind up the asphalt's surface, recycle it, and repave it over the base of your lot. Not only does this mean less work to remove the entirety of asphalt, but fewer materials are used for repaving. The combination can save you on costs for materials and labor.
Pavement Correction : Asphalt milling in Peoria IL is especially helpful when correcting errors in the original laying of asphalt. For example, asphalt can be set uneven, making it difficult for vehicles to traverse. Drainage can also become an issue if the asphalt's surface is rife with dips and divots. Thankfully, through asphalt milling in Peoria IL, the pavement surface can be removed and redone to correct any problems.
Additional Use : Not only can the ground asphalt from milling be recycled into hot asphalt for repaving, but it can be used as asphalt gravel for other projects. And asphalt gravel is great for redoing rural roads or driveways. Asphalt gravel is incredibly resistant to snow and ice, as either will quickly melt away.
Paving, Sealcoating & More
While asphalt milling is a simple and more affordable option for restoring pavement, it's not always the best option depending on the current state of your asphalt. With Hoerr's Blacktop & Sealcoating, we can provide additional services to repair and replace asphalt or concrete pavement. For example, our services include: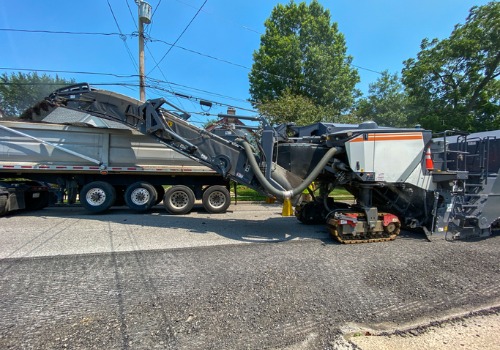 Contact Us
Is asphalt milling in Peoria IL the best decision for restoring your pavement? Talk with the team at Hoerr's Blacktop & Sealcoating to find out! Our skill and experience have led us to become the go-to local pavement contractors for Central Illinois homes and businesses. Learn more about what we offer by contacting us today at 309-300-3736. Also, we are located at 7917 N Kickapoo-Edwards Rd, Edwards, IL 61528.