Local Contractor for Asphalt Repair in Galesburg IL
Hoerr's Blacktop & Sealcoating can extend the life of your pavement with quality asphalt repair in Galesburg IL. We can fix pavement problems at your home or business. If you have potholes or cracks in your asphalt, make sure to address them. The benefits you can experience from our asphalt repair services include:
Less Risk of an Accident – You risk expensive damage to your tires, your vehicle, and a rise in insurance rates with potholes or cracks in asphalt pavement. Pavement cracks and potholes can play a significant factor in traffic accidents. Repairs keep your pavement smooth, offering safer driving conditions.
Reduce Expenses – Asphalt repair involves a smaller investment when compared to completely resurfacing your pavement. By addressing damage, you can put off the expense of installing new asphalt or asphalt milling services.
Fewer Traffic Jams – Customers will get frustrated if your parking lot contains potholes that create traffic bottlenecks. Avoid that hit to your customer satisfaction with asphalt repair services.
Request a free quote now to get potholes or cracked pavement fixed. We will send you a free estimate within 24 hours.
Signs You Need Asphalt Repair in Galesburg IL
Contact the experts at Hoerr's Blacktop & Sealcoating if you are wondering whether you need asphalt repair in Galesburg IL. Tell us about the damage you notice. Then, we can provide you with the best course of action and estimate to fix the issues. For easy reference, give us a call if you notice any of the following types of pavement damage:
Potholes – Holes in your pavement are created by water seeping into the asphalt, expanding, contracting, and breaking the material. This sort of damage should get addressed quickly to avoid more holes and further deterioration.
Cracks – Often, sunlight or exposure to oil spills or other chemicals leaking from vehicles will degrade the surface of your pavement. Eventually, this will lead to asphalt cracks.
Raised Pavement – If you have raised pavement, it means the ground beneath the surface has started to sink. Without fast action, your pavement could develop a sinkhole.
Deformities – If your pavement begins to warp or twist, you likely have a problem with the pavement base. Without repair, this will lead to your pavement continuing to develop deformities.
Ruts – If your pavement gets traffic from heavy equipment and trucks, it can develop ruts or grooves from repeated weight loads from tires. Without asphalt repair services, the ruts will get deeper and eventually destroy the pavement surface.
Comprehensive Pavement Services Available
Hoerr's Blacktop & Sealcoating offers many paving services, including asphalt repair in Galesburg IL. Contact us for fast, easy, and affordable solutions when you need the following services: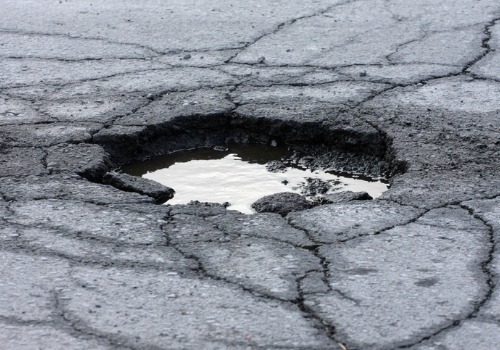 Free Estimates for Asphalt Repair in Galesburg IL
It will not cost you a dime for an estimate if you think you need asphalt repair in Galesburg IL. So, why not do something about the damage that is concerning you? Contact Hoerr's Blacktop & Sealcoating now to request a free quote. If you prefer, you can call us at 309-228-9283 to discuss your project. Our services come highly recommended by our clients on customer reviews.