Sealcoating in Peoria IL to Protect Roadways Against Wear & Weather
Our roadways take a lot of use and abuse over time, from major highways to private drives. In some cases, these decaying roads can become downright hazardous, with the appearance of bumps, ruts, and potholes. These deteriorating roads end up hurting our vehicles, including screwing up our alignment or throwing up rocks, leading to unpleasant repair bills.
Traffic usage isn't the only factor in how a road can eventually wear out. Prolonged periods of extreme weather, like heat plus ice and snow, all can do a number on roads.
Roads may receive authorization and funding for repairing, but this often may turn into a confusing and messy construction zone, where traffic crawls along for years. Then the roads wear out again, and the cycle repeats itself. Home lots and business lots can also decline over time.
What if there was a way to reduce the rate of damage to your roads, and therefore reduce potential damage and expensive repairs to your car? There is, and it's called sealcoating.
Sealcoating in Peoria IL can provide a protective coating over asphalt surfaces that can extend, even double, the surface's lifespan.
The process of applying sealcoating over pavement can be considered a smart investment in the future. It will delay the time and costs needed to repair the roadway, which can save homeowners, business owners, or municipalities thousands of dollars in the long run.
Getting Started
One option in the Peoria area is Hoerr's Blacktop & Sealcoating, a family-owned and family-operated business. Our overall focus is on pavement solutions for residential and commercial customers.
Though our company's primary services are sealcoating in Peoria IL and the surrounding area, we also provide preparation work for sites, including taking care of drainage, excavation and general base installation set-ups for asphalt and concrete. That way, your site will be ready for either material to be added.
Representatives from Hoerr's Blacktop and Sealcoating like to sit down with possible residential or commercial clients to discuss possible sealcoating options. The actual application process is simple: first, we thoroughly clean the site. Then the protective coating is applied, followed by two coats of sealer. Then the entire area needs to cure for at least 24 hours without traffic on it, preferably longer.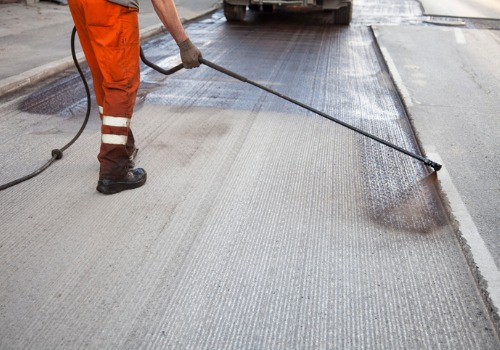 Once sealcoating in Peoria IL is complete, it will provide extended protection against:
Penetration by water
Damage from sun and UV rays
Chemicals, salts, and various petroleum products like gas or oil.
Homeowners or business owners seeking ways to get more life out of their asphalt can consider the appeal of sealcoating. Beginning that discussion can even be done before your roads start to fall apart.
For more information about various asphalt paving and maintenance products in the Peoria area or a free estimate, please call toll-free at (309) 228-9274 or stop by our office in Edwards at 7917 N. Kickapoo-Edwards Road.