Do You Require Chip and Seal in Pekin IL?
You're not alone! Countless homeowners and businesses struggle to maintain their driveways, lots and roadways. With constant exposure to the elements and extreme stress from consistent traffic, asphalt deterioration is rampant for pavement surfaces throughout the Midwest. If only there were some way to effectively restore and protect your pavement without breaking the bank. Good news: there is! With chip and seal in Pekin IL, you can keep your asphalt in the best possible condition for an affordable price. Call Hoerr's Blacktop & Sealcoating to learn more.
How Does Chip Sealing Work?
Chip seal paving is a simple pavement restoration technique with the right trucks, sprayers and equipment. The process involves spraying liquid asphalt pavement over the surface of the asphalt being treated. Once the initial asphalt layer is applied, another gravel or asphalt aggregate chip layer is spread over the surface. After the two materials are set, a durable, waterproof overlay that protects and restores the asphalt is created.
What Does Chip Seal Pavement Provide?
There's a reason why chip seal paving is so popular. In fact, there are more reasons than one! Its effectiveness, matched with its affordability and ability to improve roadways, make chip and seal service sought-after by homeowners, businesses, and city municipalities alike. Some of the benefits of chip seal paving include:
Extended Pavement Lifespan

When you first have new pavement laid, you expect it to last for decades! However, Midwestern weather and heavy traffic have other plans, often exasperating the deterioration of asphalt. Before deterioration reaches the point of no return, chip seal paving can help protect and restore your pavement. With a chip seal overlay, you can extend the pavement lifespan by as much as five years!

Improved Driver Safety

Crumbling and cracked roadways spell disaster for drivers and pedestrians. Asphalt pavement in disrepair can damage vehicle undercarriage, put holes in tires, and make driving challenging. Thanks to chip seal paving, most asphalt damage can be reversed, creating a safer pavement surface to drive over. Additionally, chip seal overlays have the added benefit of increased driver safety by making pavement surfaces skid-resistant and anti-glare.

Greater Affordability

If your pavement needs attention, but you don't have the budget for it, it's worth considering chip sealing instead. Chip seal services are more effective than other asphalt resurfacing methods but are significantly more affordable. Much of this affordability is due to the reduced need for labor (with trucks and machinery doing most of the work) and the reliance on less expensive materials like recycled asphalt. In turn, contractors and clients both save with chip seal paving!
How Else Can We Assist?
Needless to say, we supply more than chip and seal in Pekin IL! Hoerr's Blacktop & Sealcoating makes a great effort to provide our clients with a wide variety of unique asphalt services, among others. Over the years, we've supplied the Greater Peoria area with high-quality asphalt paving, restoration and protection, becoming one of the preferred asphalt contractors for residents. Our services include: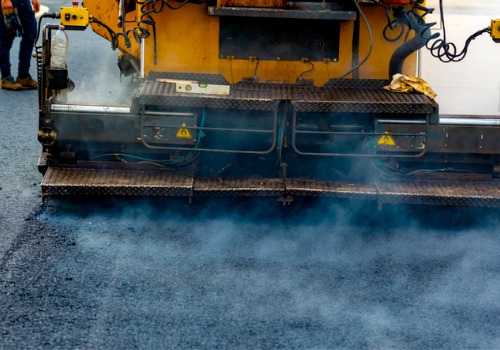 Give Hoerr's a Call
There's no need to allow your asphalt to continue deteriorating. Instead, get ahead of asphalt maintenance and protect your pavement with exceptional chip and seal in Pekin IL from Hoerr's Blacktop & Sealcoating. To learn more about our services or request a quote, call 309-222-2979. We are located at 3715 N Trivoli Rd, Trivoli, IL 61569.